Sales Tax Audit Overview
State Sales Tax Audit Assistance – Introduction and Overview
Up is down; down is up. He says "Hello" when he leaves; "Goodbye" when he arrives. – Jerry Seinfeld
Anyone that's been through a sales tax audit can relate to the backward and bizarre world that is a state and local tax. Getting the notice that you have been selected by the state to go through the long, grueling, and often backward process of a state sales tax audit is daunting.
However, by having the right team, the audit does not have to be as stressful and burdensome as you might think. While some companies may opt for a state sales tax law firm, having a team that is experienced and knows how to play the audit game is more critical than having an expensive tax attorney. We have both tax audit experts and sales tax attorneys as part of our team and our goal is to provide the appropriate service for your business!
Sales Tax Audit Selection Process: How Did I Get So Lucky?
Most businesses that call us for state sales tax audit services ask how they got selected for audit in the first place. There is a percentage of companies that get randomly selected for sales tax audits, and you may have been one of those 'lucky winners.' But that's usually is not the case. More commonly companies get selected because:
Targeted Industries
The state will often go after industries suspected of underreporting. Usually pegged as "campaigns" the state will have audits that are focused on a particular industry. A few of the industries most commonly audited are:
Cash-based businesses are of particular interest such as bars, restaurants, grocery, and liquor stores. It would "shock" you to know that cash-based businesses do not always report all their cash sales for federal or state tax purposes. In the past, auditors had a difficult time auditing such industries but thanks to third party reporting and much better industry average data, state sales tax departments are more effectively and efficiently able to audit such industries.
Industries with complex and confusing sales tax laws or rules. If even the best sales tax attorney, CPA, or professional has a tough time understanding it, how do you think the average business owner fares? Industries with "gotcha" type rules are often prime candidates for audit notices. Real property improvement contractors come to mind and are often audited by the state for gotcha type taxes on transaction types.
Prior Audits – Typically a company that is audited and owes sales tax, as a result, is likely to get hit again to see if they cleaned up their act.
Gross Sales – If your business has a high volume of sales or your sales reported to a state are different than your federally reported sales, it could be a sales tax audit flag.
Exempt Sales – You've already paid tax on your taxable sales, so having a high volume of exempt sales can be a sales tax collection opportunity for the state sales tax audit department.
Exempt Sales % – If your business reports a higher percentage of exempt sales compared to the industry averages, you could be up next for a sales tax audit.
Refunds or Credits – The line on the sales and use tax return should be changed to "AUDIT ME." Many businesses that take a higher number of credits on their return have a high likelihood of getting a sales tax audit. The same holds true for filing a refund claim for sales tax.
According to CDTFA in California, the following are top audit errors for 2017-18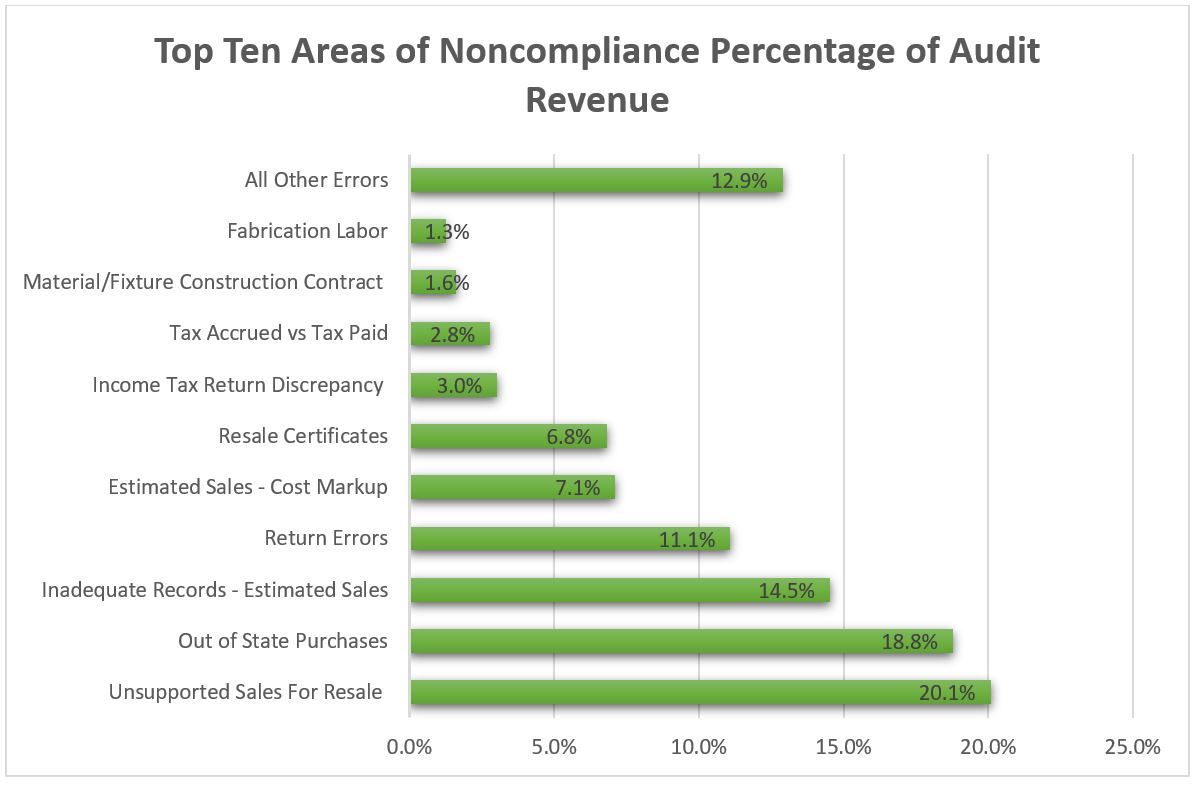 State taxes, including sales and use tax, are a huge revenue source for states. The Federation of Tax Administrators published some state tax revenue statistics in 2017, including the amount of tax revenue by state: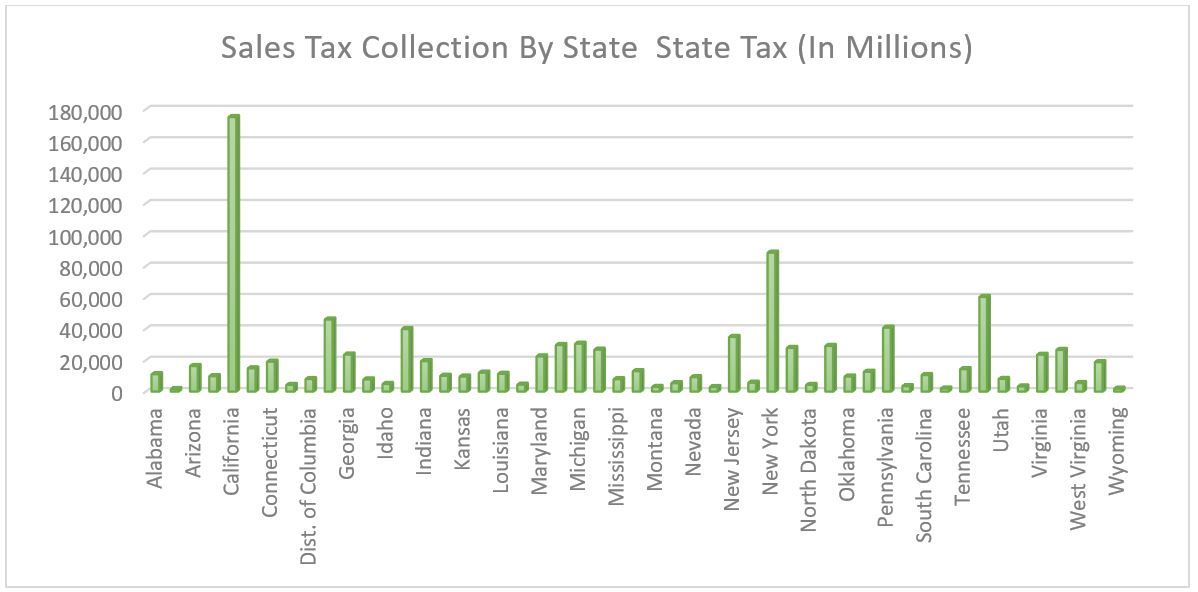 A sales tax audit puts the pressure on taxpayers in their guilty until proven innocent audit tactics. The auditors are taught when in doubt, write it up, and make the taxpayer prove otherwise. Managing and controlling the audit so the auditor does not have the option to write it up can be a tactical advantage. However, if it is written up, you must keep clawing away at the assessment through the appeals and protest process to reduce it.
Just as you are well versed in managing your business, our business is managing and fighting your audit for you. Whether you need a sales tax attorney or consultant, Sales Tax Helper matches the service to meet your needs. If you want to take on the audit yourself, without a sales tax lawyer or professional, our site has useful information to help you navigate through these treacherous waters.
Q:

What triggers a sales tax audit?

A:You inadvertently waived a red flag or your company landed in the small percentage selected for a random sales tax audit. These red flags include: Cash-based businesses, prior audits that resulted in owed sales tax, your sales reported to the state didn't match what you reported to the IRS, a high volume of exempt sales, filing a refund claim, or a high number of credits. There's also a possibility that your business happens to be in an industry that your state suspects rampant under-reporting. Often times, they will target industries effected by complex sales tax laws.

Q:

How do I prepare for a sales tax audit?

A:1. RESPOND to the notice; 2. Get organized; 3. Identify/hire your audit manager; 4. Notify your auditor of who they will be corresponding with; 5. Compare your sales tax returns against the federal tax return; 6. Test at least 1 month of exempt sales; 7. Reconcile your sales tax payable account versus your sales tax payments; 8. Review your fixed assets purchased — did you pay sales tax on them?; 9. Review your purchases on your key expense accounts to ensure tax was paid on your purchases.

Q:

How long do sales tax audits last?

A:Audit duration can vary dramatically from state to state and from business to business. Waiver issues aside, an audit generally takes 3-7 months to complete. Surprisingly, some audits can drag on for a few years. Time factors usually swing on the size of the company, the ability to produce reliable and organized documentation, and the level of sophistication of the business.

Q:

Can I do this myself or should I hire a sales tax lawyer or a sales tax consultant?

A:We all enjoy the occasional DIY project, especially when it saves us money. Before opting to go that route, consider the risk vs. rewards involved. Avalara recently conducted a study and found that the average sales tax audit costs around $115,000. When facing a sales tax audit, it is beneficial to have someone with knowledge of the financial implications on your side. That is where sales tax professionals, such as those at Sales Tax Helper LLC, can save you a lot of heartache and money by avoiding a few missteps.

Q:

What accounting software and services do you work with?

A:TaxJar, Vertex O Series, Avalara, Vertex Cloud, Quickbooks, Proconnect Tax Online, Canopy, ONESOURCE, Sovo Intelligent Compliance Cloud, Intuit Lacerte, CCH SureTax, SS&C Advent Axys, Vertex Payroll Tax Q Series, Bloomberg Tax Advantage, VATBox, CSC Corptax Compliant, Oracle Tax Reporting Cloud, TaxCloud, Fast Enterprises, GenTax, Fast Enterprises FastUI, SAP Tax Compliance, Taxify, and ESKORT Compliance Solution.