Kentucky Your Business Partner for All Things Sales Tax
Kentucky Sales Tax & Audit Guide
Straightforward Answers to Your Kentucky Sales Tax Questions
Do I need to collect Kentucky sales tax?
Should I be collecting or paying Kentucky use tax?
What do I do if I should have been collecting but haven't?
I received an audit notice. What should I do?
Guidance on fighting a sales tax assessment in Kentucky.
Who needs to collect Kentucky sales and use tax?
Like most states, to be subject to Kentucky sales tax collection and its rules, your business must:
Have nexus with Kentucky, and
Sell or use something subject to Kentucky sales tax.
How is nexus established in Kentucky?
Any of the following establishes physical nexus:
All Kentucky retailers must register, collect, and report tax on their Kentucky sales regardless of their gross receipts or sales volume thresholds because they have a physical presence in the state.
You have a physical presence in Kentucky if you:
Have or use an office, warehouse, distribution house, sales house, service enterprise, or other place of business in Kentucky.
Maintain a stock of goods or inventory in Kentucky.
Regularly solicit orders in Kentucky, even if the orders are not accepted in Kentucky (unless your Kentucky activity is only advertising or solicitation by mail, e-mail, the Internet, telephone, etc.).
Regularly deliver property in Kentucky other than by common carrier or U.S. mail; or
Regularly lease or service property located in Kentucky.
Economic Nexus (Wayfair Law) and Internet Sales in Kentucky
Effective July 1, 2018, Kentucky law requires remote retailers outside of the state with 200 or more sales into the state or $100,000 or more in gross receipts from sales into the state to register and collect Kentucky sales and use tax.
How is the $100,000 gross revenue threshold calculated?
The transaction and gross receipts thresholds are based on the previous or current calendar year sales. Businesses must begin to collect and remit sales tax within 60 days after the threshold is met.
See Kentucky Retail Packet for more details.
Which sales are subject to Kentucky sales tax?
General Transactions
If you have nexus in Kentucky, the next step is determining whether the products or services you sell are subject to Kentucky sales and use tax.
Unless an item is specifically exempt, sales and rentals of tangible personal property are subject to Kentucky sales tax.
The rules seem simple, but many details make applying Kentucky's tax rules to your business challenging. We recommend scheduling a time to review your specific situation with one of our sales tax professionals.
Common Exemptions from Kentucky Sales and Use Tax:
Three types of sales are exempt from Kentucky sales tax:
Sales for Resale – tangible personal and digital property purchased by another seller who issues a Resale Certificate.
Interstate Commerce – property purchased to be delivered to a location outside Kentucky.
Sales of property which is exempt under the sales and use tax law.
Exempt items include:
Food, other than prepared food served with utensils.
Bottled Water
Prescription Drugs
Prescribed Medical Devices, Equipment, and Supplies
Coin-Operated Telephone Service
Services
The following transactions are taxable unless an exemption applies:
sales of admissions
accommodations to transients for less than 30 consecutive days
communications services
prepaid calling service and prepaid wireless calling services
furnishing of sewer services
natural gas transmission and distribution services
The following services are taxable under Kentucky law:
Photography and photo finishing services. KRS 139.010(30) defines "photography and photofinishing services" to mean "(a) 1. The taking, developing, or printing of an original photograph, or 2. Image editing includes shadow removal, tone adjustments, vertical and horizontal alignment, cropping, composite image creation, formatting, watermarking, printing, and delivery of an original photograph in the form of tangible personal property, digital property, or other media. (b) Photography and photofinishing services do not include photography services necessary for medical or dental health."
Marketing services. KRS 139.010(22) defines "marketing services" as "developing marketing objectives and policies, sales forecasting, new product developing and pricing, licensing, and franchise planning."
Telemarketing services. KRS 139.010(47) defines "telemarketing services" as "services provided via telephone, facsimile, electronic mail, or other modes of communications to another person, which are unsolicited by that person, for:
Promoting products or services.
Taking orders; or
Providing information or assistance regarding products or services.
Soliciting contributions.
Public opinion and research polling services.
Lobbying services.
Executive employee recruitment services.
Private mailroom services.
Website hosting services.
Website design and development services.
Facsimile transmission services.
Bodyguard services.
Residential and nonresidential security system monitoring services.
Private investigation services.
Process server services.
Repossession of tangible personal property services.
Personal background check services.
Parking and Valet services.
Rental of space for meetings, conventions, and short-term business uses entertainment events, weddings, banquets, parties, and other short-term social events.
Social event planning and coordination services. Leisure, recreational, and athletic instructional services.
Recreational camp tuition and fees.
Personal fitness training services. Massage services, except when medically necessary.
Body modification services include tattooing, piercing, scarification, branding, tongue splitting, transdermal and subdermal implants, ear pointing, teeth pointing, and other unnecessary modifications for medical or dental health.
Cosmetic surgery services. KRS 139.010(5)(a) defines "cosmetic surgery services" as "modifications to all areas of the head, neck, and body to enhance appearance through surgical and medical techniques. (b) Cosmetic surgery services do not include reconstruction of facial and body defects due to birth disorders, trauma, burns, or disease."
Testing services, except testing for medical, educational, or veterinary reasons. However, small animal veterinarian testing services became taxable in 2018 under HB 487.
Household moving services.
Interior decorating and design services.
Specialized design services, including the design of costumes, clothing, furs, fashion, shoes, jewelry, lighting, and textiles.
Lapidary services, including polishing, cutting, and engraving precious stones.
Labor and services, including service calls and trip charges, to repair or maintain commercial refrigeration equipment systems even when no tangible personal property is sold in that transaction.
Labor to alter or repair apparel, footwear, watches, or jewelry when no tangible personal property is sold in that transaction.
For more details, see Kentucky Sales Tax Facts.
Software
Many people have questions about the taxability of Software as a Service (SaaS).
Many states already impose a tax on Software as a service. As these options proliferate, states are moving to update their tax laws and, naturally, impose a tax.
To determine whether you need to collect tax on software sales, we highly recommend contacting one of our sales tax professionals to help you sort it out.
You can find more details about Kentucky sales tax and Software as a Service here. Still, we've provided the basic information below to help you get started.
Custom software
Non-prewritten (custom) computer software is not taxable, whether delivered electronically or by load and leave.
Prewritten (canned) Software & Remotely accessed Software
KRS 139.010(33) defines "prewritten computer software access services" as "the right of access to prewritten computer software where the object of the transaction is to use the prewritten computer software while the seller or a third party, wherever located, maintains possession of the prewritten computer software, irrespective of whether the charges are on a per use, per user, per license, subscription, or some other basis" and is taxable.
Extended Warranty Services on Digital Products
Kentucky has amended the definition of "extended warranty services" to include extended contracts for real property and all contracts for tangible personal and digital property regardless of whether the property under warranty is taxable or exempt.
Shipping & Handling
Delivery charges for taxable tangible personal property are taxable. Delivery charges for non- items are not taxable.
Industry-Specific Guidance
While the general sales tax rules seem straightforward, applying those rules can get tricky when gray areas arise. The Kentucky Department of Revenue provides some specific guidance for the following industries and situations:
Determining Local Sales Tax Rates in Kentucky
Kentucky imposes a 6% statewide rate. There is no local sales tax in Kentucky.
Local Sales and Use Tax Tables
Localities in Kentucky do not impose sales tax beyond the state sales tax rate of 6%.

*Exact tax rates vary. Occupancy fees and taxes are not included in this table.
I Should Have Collected Kentucky Sales Tax, But I Didn't
Many of our competitors suggest Filing a Voluntary Disclosure Agreement
in each state. This is a one-size-fits-all solution that isn't always the best. Our sales tax professionals will work with you to determine your business's best and most cost-effective solution.
If you determine your business has nexus, but you have not collected Kentucky sales tax, here are your options:
Register and pay back taxes, penalties, and interest, or
Complete a VDA to cut penalties (and, in some cases, reduce your tax liability and avoid interest).
Here is what you need to know about each option to make the best decision for your business:
Option 1: Register to Pay Back Taxes, Penalties, and Interest
A VDA is not cost-effective if the past liabilities and penalties are minimal. Sometimes the best resolution for a business is to register with Kentucky and pay back taxes, penalties, and interest.
Be wary of the tax professionals recommending a VDA in these cases. They want to make a buck rather than look out for your best interests.
When to consider registration and payment:
If you established nexus less than 3 or 4 years ago.
The sales tax penalty is LESS than the professional fees charged for the VDA.
Your business does NOT have a sales tax collected issue.
Beware: Registering does not generally end past liabilities.
If you're unsure what your past liabilities are, contact us. Our state tax professionals work with you so you can make the right choice for your business.
Option 2: Voluntary Disclosure Agreement (VDA)
Kentucky's lookback period: The standard lookback period is four years.
In many situations, voluntary disclosures are a valuable tool to reduce extended periods of past exposure.
The voluntary disclosure limits the lookback period to four years. So, if you should have collected sales tax over the past ten years but didn't, you may benefit from doing a VDA.
A VDA may be a good option for you if:
You established nexus more than 3 or 4 years ago.
You have a sales tax collected but not remitted issue.
The sales tax penalty savings is MORE than the professional fees charged for the VDA.
What to Expect During an Audit
The typical audit process is shown in this flowchart. Detailed guidance for each Kentucky audit process stage follows in the sections below.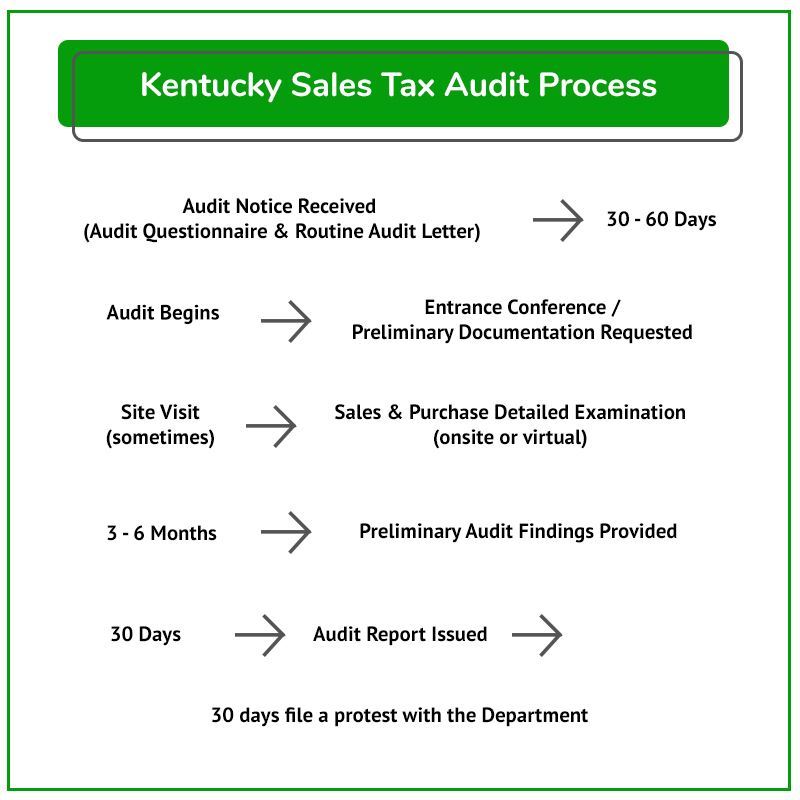 Kentucky regularly audits businesses required to charge, collect, and remit various taxes in the state. Many audits begin with a call from a Kentucky Department of Revenue sales tax auditor. Shortly after the call, your business will receive a Notification of Intent to Audit. This notification confirms that you were lucky enough to be chosen for a Kentucky sales tax audit.
It is good to start with getting a state and local tax professional involved to prepare for the audit.
I Received a Kentucky Sales Tax Audit Notice. What Should I Do?
Businesses that receive a sales tax audit notice need to consider the following questions:
If you don't have sales tax audit experience, how can you trust that the state's auditor abides by the rules and follows proper procedures?
How will you know when to provide documents or when to push back?
Do you thoroughly understand your sales and use tax areas of exposure?
Controlling the audit is paramount to limiting exposure and shaping the results. Are you confident in doing that on your own?
Unless you can confidently answer these questions, hiring a professional is most likely to be the best option.
Contact us to learn how our sales tax professionals can give you the peace of mind and confidence you'll need during your audit.
Visit our resource pages for more information to help you make critical decisions during your Kentucky sales and use tax audit.
What to Expect from a Kentucky Sales Tax Auditor
Here is a summary of the general audit process:
The auditor will conduct pre-audit research.
The auditor will often schedule and perform an entrance conference.
The auditor will request records (many of which the auditor is not entitled to and does not need)
Once the auditor receives the necessary records, they will compare your Kentucky sales and use tax returns to your federal income tax returns or bank statements to determine whether you reported all applicable or gross sales on your Kentucky sales tax return(s).
NOTE:A slight error in how the tax was charged on even a single type of transaction can add up to a significant sales tax liability.
Once the auditor is confident all sales are accounted for, they will:
Review your exempt and out-of-state sales.
Conduct a use tax audit – the auditor will request accounts documents to ensure you adequately paid use tax on applicable purchases.
Common areas audited include:
Advertising Expense
Auto & Truck Expense
Repair and Maintenance
Office Expense
Miscellaneous Expense
Supplies
Equipment
If a business buys an item online without paying use tax, the business is still obligated to remit the tax to Kentucky. Believing otherwise often leads to shocking results for the unsuspecting taxpayer during an audit. Here is more information on Kentucky Use Tax.
If you have questions about your situation, contact us to discuss it with one of our tax professionals.
After the Audit – Understand and Defend Your Businesses Rights
Upon completion of the audit, there will usually be an exit conference with the auditor. The auditor will produce an audit report with corresponding work papers to support the Kentucky sales and use tax assessment.
It is advisable to have a sales tax professional present during this meeting. This is your first opportunity to see the auditor's findings. You'll want to push back on areas where they have overstepped their bounds or misapplied Kentucky's sales tax laws.
It's best to hold off on agreeing to the sales tax assessment until a sales tax professional has reviewed it for issues that should be challenged.
Many businesses wind up drastically overpaying the state because the business owner or in-house accounting personnel weren't well versed in the sales tax laws that, if challenged, could have reduced their sales tax liability.
In the following sections, we'll cover the process of challenging a Kentucky sales tax audit assessment.
Contesting Audit Findings After the Audit – The Protest
Kentucky Sales Tax Audit Protest Process Flow Chart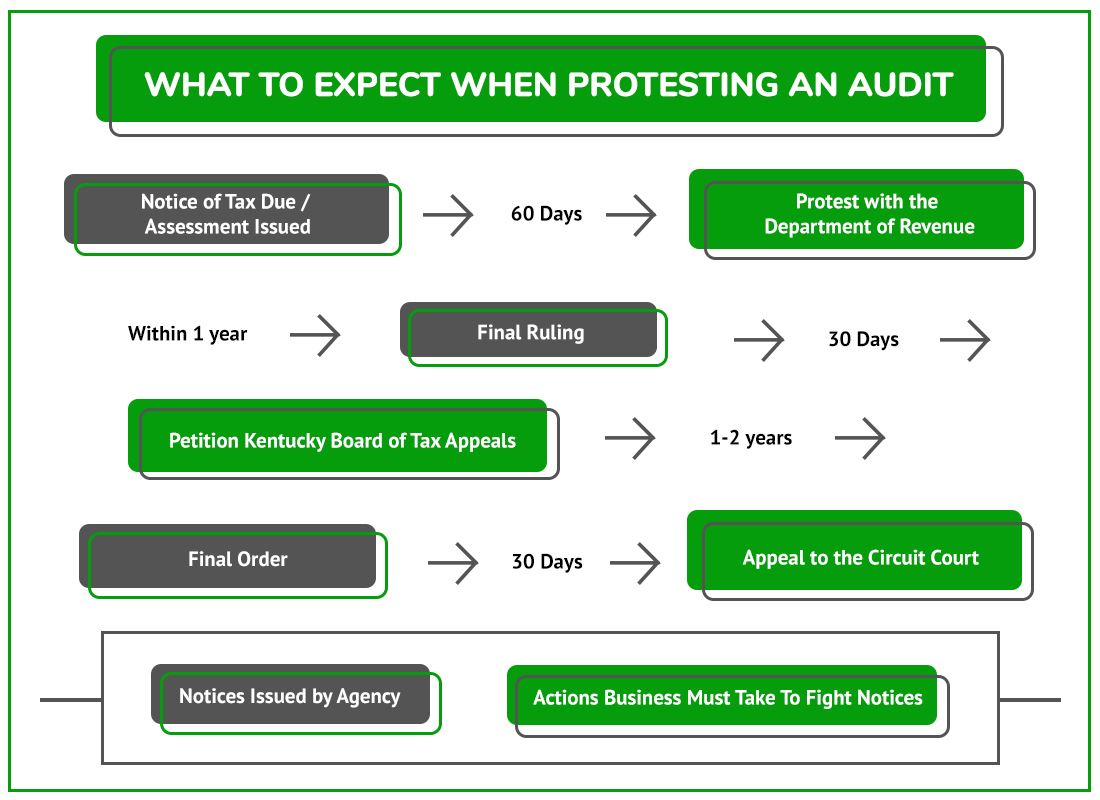 NOTE: If the deadlines are missed, it can be tough to get the case reopened.
After an audit, the auditor will issue a Notice of Determination (AKA the audit report). It's essential to review and understand its implications carefully.
The audit report:
Details of the auditor's findings
Describes any proposed audit adjustments
Shows the amount of tax, interest, and penalty due
If you disagree with the proposed changes, you may request an informal conference and attempt to resolve the case with the auditor.
Audit Closing Conference
The taxpayer has a short period to contest the findings with the auditor. Any issues with the results are handled as follows:
Issues related to exemptions, proof of tax paid, and calculations are worth addressing with the auditor.
Legal interpretations of sales tax law are often not resolvable at this stage.
After this conference, the auditor will adjust the audit assessment, and a Notice of Determination will be issued.
If you cannot resolve this with the auditor, the next step is to appeal/protest the issue.
Appeal/Protest with The Kentucky Department of Revenue
You have the right to protest if you disagree with the assessment. You must submit your written protest within 60 days of receiving the assessment. If you file a timely protest, you have a right to a conference to discuss the matter.
Before the appeal, the auditor likely only has the authority to resolve factual/documentation sales tax disputes. For example, if you have documentation, such as a resale or exemption certificate, this can be resolved on audit. Conversely, the appeal/protest process is the first time you can resolve legal or grey issues on the taxability of certain transactions. The appeals process also affords the Kentucky Department of Revenue more latitude to settle disputes, whereas the auditor has very little authority. Many cases that remain unresolved on the audit can get resolved at this level. It is essential to have a sales tax professional or attorney involved in the presentation, drafting, and conference surrounding the protest process to get your Kentucky sales tax assessment resolved.
Protest Rights and Audit Finding Confirmation
If you are not satisfied with the Department's final ruling following your protest, you can
appeal the final judgment to the Kentucky Board of Tax Appeals.
If you have received a Notice of Deficiency and haven't talked to someone experienced in Kentucky State tax, now is the time. Do it before these deadlines are missed.
Administrative Hearing with The Kentucky Board of Tax Appeals
The Kentucky Board of Tax Appeals is the state's administrative court forum. The board is an independent, impartial forum. For the first time, you have the opportunity to have someone other than the Department of Revenue evaluate and rule on your case.
It hears cases against various state agencies and is presided over by independent administrative law judges.
Unlike many states, if the appealing party is a corporation, partnership, LLC, or other business entity, you must have an attorney represent you. It is advisable and strongly recommended to have an experienced sales tax attorney represent you at the hearing.
During the hearing, the appellant (the taxpayer) presents first by offering testimony of witnesses and evidence supporting its case. The Department then presents in the same manner, and your representative can challenge and cross-examine the Department. Similar to a judge, the board, a decision is rendered.
Presenting evidence and developing the record is critical to resolving your case for all practical purposes. Our team has decades of experience representing businesses in administrative court.
Final Decision
If you disagree with the decision of the Kentucky Board of Tax Appeals, you have the right to appeal their ruling to the Kentucky courts (first to the circuit court in your home county or Franklin County), then to the Kentucky Court of Appeals, and finally to the Kentucky Supreme Court.
Our team has handled hundreds of administrative court cases. It can help your company receive the resolution you are entitled to. Get in touch with us today.
Settling a Kentucky Sales Tax Liability
After any critical notices are issued, settling your Kentucky sales tax case with the Kentucky Department of Revenue is possible by filing a Kentucky Offer in Compromise. The business must meet specific criteria to qualify, but you can get better results negotiating here than with the auditor. However, knowing a fair settlement from an unreasonable settlement will be challenging without experience and knowledge of Kentucky tax laws.
DO NOT attempt to negotiate a settlement without an experienced Kentucky state and local tax lawyer or other professional.
Contest a Kentucky Jeopardy Assessment
Kentucky may issue a Notice of Jeopardy Determination in certain situations.
The jeopardy assessment gives the Kentucky Department of Revenue the right to try to collect immediately.
Due to the jeopardy nature, the taxpayer only has a very short time to contest the assessment and must place a security deposit to fight the issue.
Kentucky District Court
If you have not resolved your case with the Board of Tax Appeals, you still have a chance to fight your Kentucky sales tax assessment in the Kentucky District Court.
Neither party wants to spend the time and resources on the uncertainty of the tax court. So, challenging the assessment can effectively maximize your settlement potential, but, at this stage, it is imperative that you have an experienced representative. We don't generally recommend it, but you always have the option to skip the agency protest process and file it in tax court.
Other Kentucky Sales Tax Resources
If you have received a Notice of Assessment and haven't talked to someone experienced in Kentucky State tax, now is the time. Do it before these deadlines are missed.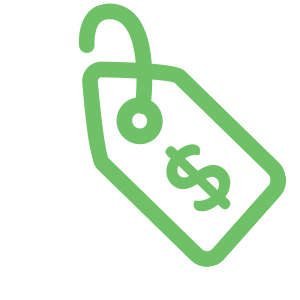 "Jerry is the best!"

Jerry is the best! I made the mistake thinking I could deal with the use tax auditor on my own not realizing that I would be ...

- Gary O.

"Sales Tax Helper Can Make Miracles Happen"

Sales Tax Helper can make miracles happen. Jerry was able to wipe hundreds of thousands of dollars off a NY sales tax bill ...

- Zalmi D.

"I Will Definitely Be Using His Services Again"

Jerry was very helpful and listened to all our concerns. I will definitely be using his services again.

- Joyce J.

"Representing Our Company Professionally"

Owning a Texas car dealership is demanding work, so taking on a Texas Sales Tax Audit was a daunting task for us – we didn't ...

- Ata A.

"Responsive and Provide Invaluable Knowledge"

Salestaxhelper.com is run by true professionals that understand the complexities of operating a multi-state business. They're ...

- Brennan A.